Statement of the Farmers Major Group at the fourth session of the United Nations Environment Assembly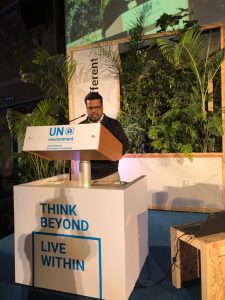 Delivered by Mr. Wali Haider
FARMER MAJOR GROUP STATEMENT AT UNEA-4
Thank you chair.
Honorable excellences, distinguished delegates and colleagues:
I am Wali Haider from Roots for Equity, Pakistan and I'm speaking on behalf of the Farmers Major Group.
The dominant paradigm of unsustainable consumption and production continue to devastate and worsen the situation of the environment and the people along with promotion of Trade-Related Aspects of Intellectual Property Rights which force GMOs and commodification of seeds and water. This crisis is further compounded by unabted land grabs by the transnational corporations. This is manifest in the crises in food, climate, environmental degradation, reduced biodiversity, depleted natural resources, and increasing violation of people's rights and exacerbating inequality.
The industrial model of agricultural production and perverse subsidies in the agricultural sector are destroying the sources of livelihoods of small-scale food producers and their communities, resulting in hunger and forced migration.
To tackle the challenges we are facing in nourishing a growing global population and ensuring food sovereignty require innovations. People-centred and community solutions are innovations and appropriate technologies that protect the environment, promote sustainability, community ownership, social solidarity and mutuality and based on development justice. Innovative solutions that make a difference in people's lives are often not technological but social innovations, linked with traditional practices and based on indigenous and local knowledge systems. Dimensions of environment, economy and society, the three pillars of sustainable development, are all taken into account in people's solutions and community innovations towards sustainable consumption and production.
It is proven that in food production, agroecology as a practice based on constant innovation of farmers, a science and a social movement, is known to improve soils, protect health and the environment, improve livelihoods, and increase household income. Agroecology also harnesses traditional and indigenous knowledge systems supported by people's science and builds community unity. Continue reading →