Lobbyist Claims Monsanto's Roundup Is Safe To Drink, Freaks Out When Offered A Glass
SM Gibson March 26, 2015
French television station Canal+ recently sat down with Dr. Patrick Moore for an upcoming documentary. Dr Moore, who claims to be an ecological expert and is currently the frontman for Ecosense Environmental, stated to the interviewer that Monsanto's weed killer Roundup was not responsible for skyrocketing cancer rates in Argentina.
This is where the interview took a turn for the surreal. Dr. Moore insisted that Roundup is safe to drink, at which point the interviewer did the only logical thing one could do in that situation. He offered the doctor a glass of the weed killer to allow him an opportunity to back up his statement. The following is the text from that exchange.
Dr. Patrick Moore: "You can drink a whole quart of (Roundup) and it won't hurt you." Canal+: "You want to drink some? We have some here."
Moore: "I'd be happy to, actually…. Uhh…Not.. Not really. But I know it wouldn't hurt me."
Canal+: "If you say so, I have some glyphosate, have some."
Moore: "No. I'm not stupid." Canal+: "So, it's dangerous, right? Moore: "No, People try to commit suicide with it and fail; fail regularly."
Canal+: "Tell the truth, it's dangerous."
Moore: "It's not dangerous to humans."
Canal+: "So, are you ready to drink one glass?"
Moore: "No, I'm not an idiot. Interview me about golden rice, that's what I'm talking about."
Canal+: "We did."
Moore then abruptly ends the interview by calling the host a "complete jerk" and storms off. Greenpeace, an organization to which the doctor turned lobbyist belonged in the 1970's, issued this statement in part in 2008 regarding Dr. Patrick Moore.
Patrick Moore often misrepresents himself in the media as an environmental "expert" or even an "environmentalist," while offering anti-environmental opinions on a wide range of issues and taking a distinctly anti-environmental stance. He also exploits long-gone ties with Greenpeace to sell himself as a speaker and pro-corporate spokesperson, usually taking positions that Greenpeace opposes.
Trade Liberalization in Livestock: Importing Hunger and Disease!

Climate Change Impacts: From the Farmlands to Squatter Settlements
 Azra Talat Sayeed, Roots for Equity
July 13, 2016
In Pakistan, the word climate change-related disasters are generally related to upheaval of rural communities, especially riverine communities. However, what has happened today in a squatter settlement of Guslhan-e-Iqbal, Karachi belies this belief. National Disaster Management Authority (NDMA) on July 10, issued a warning about the "weather in Karachi and Coastal Areas of Sindh." Though the warning did not state what kind of 'weather' the citizens of Karachi were to expect, the result was that officers from District Commissioner offices were demanding squatter settlement communities living along sewerage flows/water canals to evacuate the area. Today (July 13, 2016) a number of senior official with police escort came to this particular squatter settlement (generally known as kacchi abadi) living under bridge that is passing under the Northern Bypass Bridge on Rashid Minhas Road in District East, Karachi, near Moti Mahal and just a stone's throwaway from the very recently opened Imtiaz Super Store.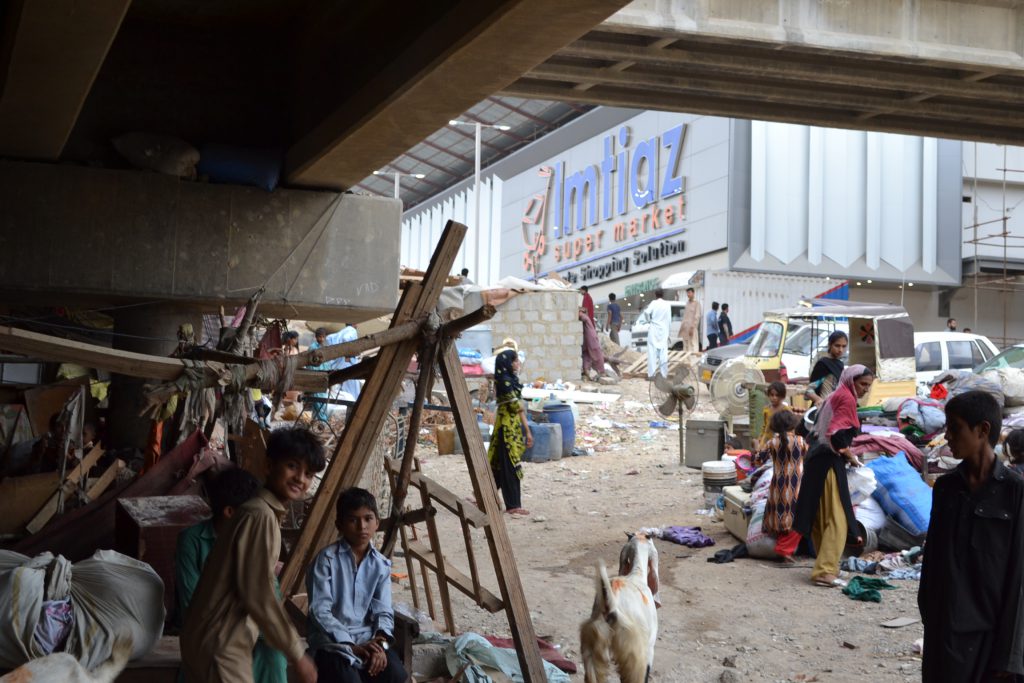 The police destroyed a temporary abode of a family that was in front of a major sewerage pipeline and other squatters (after much pleading) were given three hours to evacuate – they were threatened that the police and District East officials would return at 6:30 pm and at that time if the squatters were still there, their belongings would be bulldozed and they would be forcefully evacuated. The families were forced to pack their very meager belongings – the women, a majority of whom were domestic servants in the homes around the abadi running in every which direction searching for a shelter for their children at least for the night; a woman among them worried about keeping her children's school books in a safe place; another on her way to storing her sewing machine and her daughter's trousseau in her malikan's (employer) home if she would allow her to do!
No doubt, the evacuation being demanded was fair and in preparation of possible flooding of the sewerage canals and the small stream highly polluted with very toxic-looking effluent flowing through it. However, the abusive behavior and show of force was not at all needed. But the hallmark of authority in Pakistan is of course first verbal abuse, and if need be, physical abuse.
However, our focus is not only on the atrocious behavior of our so called government servants, who are paid to serve us, the people of this city; The question is that why are so many people living in kachi abaids. Why have these families living in such inhuman, abysmal conditions? Where did the y come?
The answers, of course, can be found in the exploitative, oppressive systems of feudalism coupled with the brutally enforced globalization paradigm, dictated by cutthroat neoliberal policies.
Almost every family in this abadi is a rural migrant from the Rahimyar Khan District in Punjab having migrated to Karachi in search of work. Most of them are landless agriculture workers who due to very poor enumeration of their work end up in Karachi. According to the women in the abadi, hardly anybody has any land. Of the 20 families, 2 families have just one or two canals (1 acre has 8 canals). Ghafurra, a domestic worker explained that even when families work as agricultural workers, they get paid seasonally. So, no doubt there is wheat stored at home but there is nothing else to eat apart from roti. According to her "there is no money to buy vegetables or any other stuff for food till the next season."  After wheat harvest, the next crop would be cotton picking which would be six months away. Sugar cane stands for 12 months so this crop only provides mazdoori (labor) once a year. One family has just come to this settlement– about 15-20 days ago, they had sown moong dal (lentils), which got washed away with the current floods. This family is suffering from hunger.  We asked the families if they have such shortage of cash how do they find the money to travel from Rahimyar Khan to Karachi? One family had sold their donkey to pay for the travel expenses. Others sell stored wheat that they have earned during the wheat harvest. It was also explained that daily expenses are also met by selling small quantities of wheat during the 'no work' season.  This is the basic reason that these families come to Karachi in search of whatever work they can find. One woman who has recently come to Karachi has been telling the families here that they are lucky to have cooked meals every day. According to her "we only subsist on roti – even vegetables are hard to access as they cost money."
Even in the extremely abysmal conditions of this community, it is important to point out that the patriarchy is rife and the burden of providing for the families, particularly the children is with the women. Almost all of them are working as domestic servants, therefore basically living a life of toil and abuse hour by hour. It was clear that the food in this abadi of which a recent rural migrant was so envious of, is dumped food from the homes where these women spend their day cooking, cleaning and washing. A woman told us that even when the police was in their area threatening to throw away their things, her husband was on his way to Rahimyar Khan, for some family business; she had entreated him not to go at least till this issue was settled but to no avail. She has seven children whom she is putting through schooling by working almost 10 hours a day – backbreaking work of sweeping and mopping at least 4-5 homes daily. She told us "a small room which would include a kitchen and the washroom would have to paid Rs 6,000 in rent per month. Where would I pay for the rent?" For two hours of work daily she gets paid Rs 3,500 in one home – and in the whole month is only able to earn no more than Rs 14,000. If she pays Rs 6,000 for rent how would she pay for the family's food, schooling, other expenses? Another woman is living with her daughters. Her husband has divorced her because she had given birth to only to daughters. So each woman has a story to tell. Each story has its root in the oppressive systems of feudalism, capitalism and patriarchy.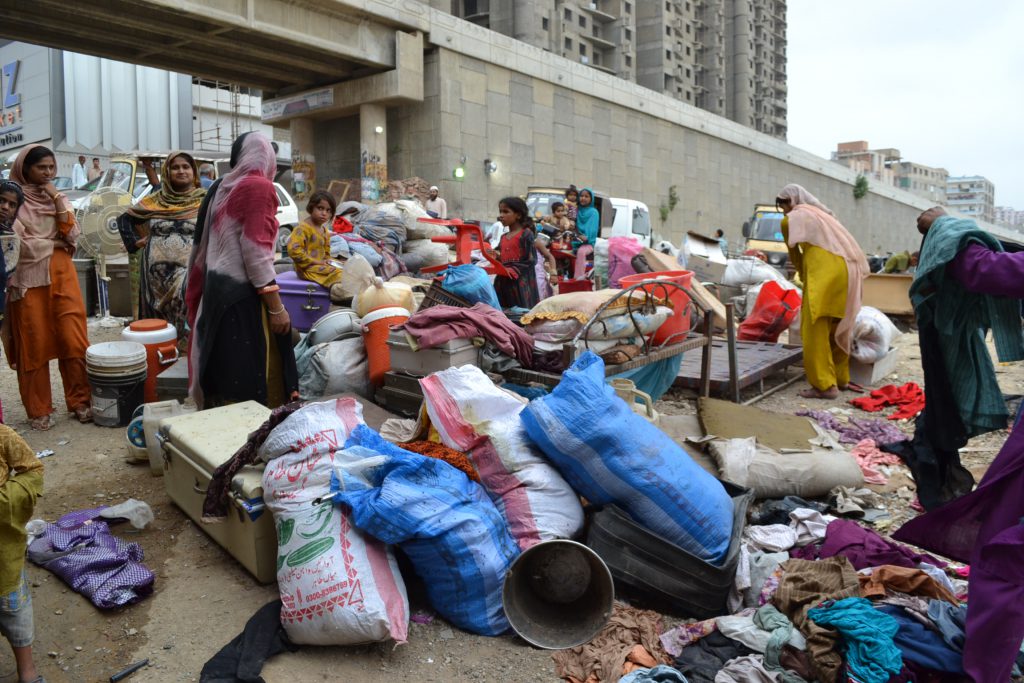 The living conditions of the kachi abadi are beyond belief. The Karachi municipality has not been recycling garbage for the past months and a huge garbage dump is just next to the unkempt 'homes' under the bridge. The closed in space was causing the place to stink even more so as the air was dank and stale with no sunlight reaching the area even during the day. The small 'stream' is a black colored flow of effluent most probably carrying waste from factories and homes – the area was invaded by an awful smell – from the garbage, sewerage lines and of course the evil looking flow of water. Flies were like small pellets covering nearly every surface, swirling up and about like small whirlpools. And against this backdrop of extreme poverty – next door was the massive Imtiaz Super Store – thank you Globalization – just opened a month ago. The area was full of private security – there to make sure that their customers had no trouble in accessing parking. There was a good stretch of area just in front of the abadi which would have a been a much better place for the abadi inhabitants to avail themselves of – but of course they knew very well that if they tried to sit there – they would be immediately removed. Such is the stinking class system of the 'civilized' society we live in. It is okay to live in rabid holes – for which these families pay bhata (bribe) to certain groups but not okay to live where they would get away from the stinking stream, the garbage, their children partially safe from falling into the polluted water. One woman mentioned that they were able get water from the nearby apartments but after Imtiaz Store has been operational – the store authorities have are not allowing them to carry water across.
In short, the working class of this country is constantly thrown from one end to another – all this because our feudal landlords have control over land and are living like the nawabs of the Mughal Dynasty – of course all thanks to the British Colonizers – our government in cahoots with the feudal landlords unwilling to carry out equitable land distribution; under the atrocious arm-twisting by the IMF and World Bank policies, our government is unwilling to stand with its people and provide them with decent, regular job security, social welfare and social security.
This short case study showcases how in Pakistan, climate change impacts come 'searching' for the people and communities so far away from flood areas; as has been constantly detailed by peoples groups and organizations: climate change is the manifestation of the exploitation of our resources by capitalist systems of production and results in the poor being the frontline victims. This case study highlights the sick manifestations of all the oppressive production and reproduction system: feudalism, capitalism and patriarchy. It portrays not only the living conditions of this kachi abadi; it is the story of thousands of squatter settlements in Karachi as well as all mega cities of the third world. All over the world, the worsening conditions of the people, the living misery of our people is due to the life-draining clamp of the rich and the powerful class of feudal landlords and capitalist who are extracting every cent of profit that they can by taking control of land and other resources leaving the people to scrounge for each meal that they are lucky to access for the day.
There is no doubt that the answer lies in politicized, organized communities willing to fight for their rights to life, living and dignity!
Vicious Circles: Dyeing Babies In Pakistan
A documentary, more than 20 years old but tragically still true portrays the truth of entrenched corruption in the capitalist frame of development. The documentary Vicious Circles aired by Yorkshire Television in its program First Tuesday is a heart-wrenching true story of how transnational corporations such as Johnson & Johnson and Nestle are capable of making profits at the cost of extremely malnourished children in Pakistan.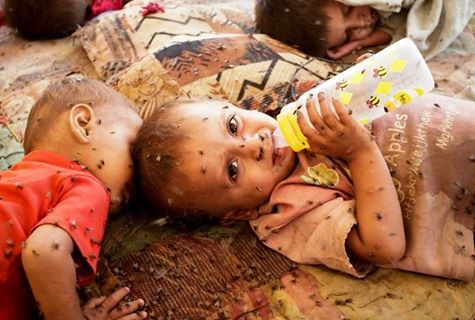 The advertisement given by Baby Food Manufacturers and Marketers Association (BFMMA) in a Pakistani newspaper Business Recorder on June 15, 2016, is making an appeal to the Prime Minister Nawaz Sharif and Finance Minister Ishaq Dar to reverse regulatory duties on import of powerder milk. They go further explaining that infant milk formulae are imported in Pakistan as milk powder which, according to them is an important food for fighting malnutrition. Their claims include that malnutrition among children under 5 will get worse if a high regularoty duty is imposed. It is important to watch the documentary Vicious Circles to understand the role of infant milk formulae in not only causing diarrhea among infants but recurrent diarrhea leads to thousands of infant deaths across the world. According to the World Health Organization,1.7 billion children are treated for diarrhea every year; and 760,000 children die of diarrhea every year.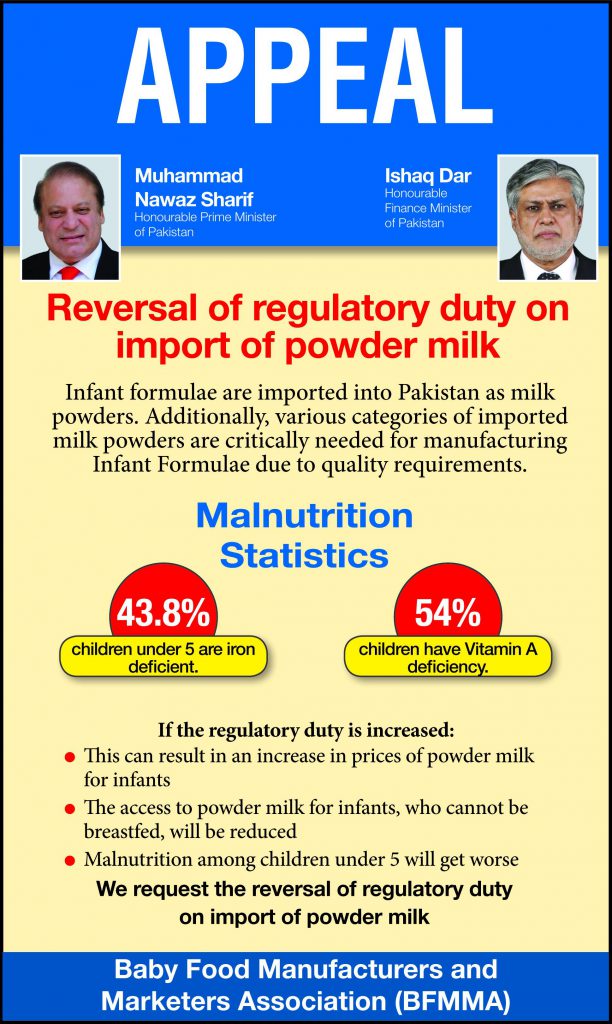 In Pakistan, the extremely unhygienic conditions of our squatter settlements and rural communities, as well acute shortage of potable water are as rampant today as 20 years ago. The constant marketting efforts of the sales force of corporations ensure that not only physicians but also mothers use infant milk formulae for infants. It is well known that infant milk formula is given through bottles; both bottles and bottle-niples are a main cause of infection in an environment where it is impossible to fight dirt and infection by flies.
In light of such conditions, the appeal by BFMMA asking for a decrease in regulatory duties should be summarily dismissed by our government. The increased regulatory duties will not only add to the government's revenues but also force mothers to opt for healthier, cheaper, home-made nutrious meals for infants and children; a practice that was the norm before the advent of profit-making propoganda of mega corporations such as Nestle and others.
18 MONTHS ON, KP GOVT YET TO ENFORCE BREASTFEEDING LAW
Dawn, July 25th, 2016
Ashfaq Yusufzai
PESHAWAR: The Khyber Pakhtunkhwa government is yet to take steps for implementation of Protection of Breastfeeding and Child Nutrition Act, 2015 despite lapse of 18 months.
"The law, passed by Khyber Pakhtunkhwa Assembly, is yet to come into action. There is no progress on the law and it has remained to papers only. The law provides for constituting KP Infant Feeding Boards to put it in enforcement mood," sources said.
They said that the board had not been formed and as a result the manufacturers of formula milk and food supplement continued to fleece people. They said that government was required to form IFB with health minister as its chairman to receive complaints regarding violation of the Act.
Sources said that IFB would subsequently recommend investigations into cases against manufacturers, distributors and health workers found to be in contravention of the provisions of the law. After passage of 18th amendment, the provinces had to make its own law and the compressive legislation if implemented would regulate the products relating to children, mothers and general public.
Experts say that enforcement of the law prohibits the manufacturers from presenting their products in comparison to mother's milk and their promotion tactics to lure the people and sell their respective brand. Citing surveys, they say, that the province has low child health indicators, mainly due to deficiency of iodine, Vitamin-A, iron, folic acid and zinc, which can be overcome without any investment.
In Khyber Pakhtunkhwa, 68.5 per cent children under five years of age have Vitamin-A deficiency against nationwide 54 per cent while 49 per cent suffer from anaemia compared to 62 per cent prevalent at the country level, according to National Nutrition Survey 2011. The province has 24.1 per cent underweight children compared to Pakistan's and 31 per cent, according to the survey.
Experts said that the comprehensive law suffered delay first in its passage from the provincial assembly and then at implementation stage. The formation of the boards was the first step to enforce the law, they added.
Sources said that the boards also included paediatricians and gynaecologists to advise and give guidelines to government regarding matters related to products designated for infants and child nutrition. Pakistan Paediatrics Association is highly concerned over the advertisement campaigns by owners of the formula milk and wants the government to enforce the law as soon as possible.
"We condemn the manufacturers, who advertise their brands as substitute of mother's milk," PPA president Prof Amin Jan Gandapur told Dawn.
He said that they didn't know how to take legal action against the violators of the law. He said that there was lack of understanding of the risks of not breastfeeding children. He termed illiteracy and lack of public awareness and widespread marketing by makers of breast milk substitutes as main causes of childhood diseases.
Prof Amin Jan asked the government to implement breastfeeding law to safeguard children from malnutrition, the main cause of children's ailments in the country.
http://www.dawn.com/news/1273063/18-months-on-kp-govt-yet-to-enforce-breastfeeding-law
EU URGES GOVT TO LIFT DUTY ON IMPORT OF MILK POWDER
The Express Tribune, July 31, 2016
ISLAMABAD: The European Union has urged the Pakistani government to remove the 25% regulatory duty on import of milk powder, which has hurt the export of this product.
The demand was made by some EU ambassadors at a meeting with Commerce Minister Khurram Dastgir Khan in Islamabad last week.
The ambassador of EU Mission led the delegation, accompanied by ambassadors of France and Holland, to take up the issue with the Pakistani authorities.
The ambassadors argued that since Pakistan enjoys GSP Plus status in exporting its products to the EU, the government should avoid such curbs on EU products as well. They urged the commerce minister to take up the matter with the higher authorities.
The Pakistani side said that the duty was imposed to protect the local farming community. The government imposed 25% regulatory duty on the import of powdered milk and whey powder in the latest budget, resulting in a total duty of 45% (20% customs and 25% regulatory duty) on the import of these items.
This was done on the recommendation of the Ministry of National Food Security and Research, which took the step after farmers demanded protection.
Sources said that after the categorical demand by the EU countries, the government is in a difficult situation about the issue as it cannot ignore the demand of the EU countries, particularly given the GSP Plus status.
At the same time, Pakistan's agriculture and livestock sectors continue to show unimpressive growth, while forming a majority of the vote bank for the ruling PML-N.
http://tribune.com.pk/story/1152842/eu-urges-govt-lift-duty-import-milk-powder/
FOOD STANDARDS: SC SEEKS ANALYSIS OF ALL BRANDS OF PACKAGED MILK
The Express Tribune, September 17th, 2016.
LAHORE: The Supreme Court on Friday directed the authorities concerned to conduct chemical examination of packaged milk of all domestic and international brands available in the market.
A two-judge bench headed by Justice Mian Saqib Nisar directed the University of Agriculture Faisalabad, the University of Veterinary and Animal Sciences and the Pakistan Council of Scientific and Industrial Research (PCSIR) to conduct the analysis within a month.
The bench was hearing a petition against sale of substandard milk.
Justice Nisar observed that it was the government's responsibility to check quality of edible items. He said those conducting the analysis of milk samples might face pressure from vested interests but they should do their job without any fear.
He made Advocate Haider Rasool Mirza coordinator for the matter and adjourned hearing of the petition for four weeks.
Barrister Zafarullah Khan had submitted that like loose milk packaged milk available in the market was also adulterated with chemicals found in detergents. He said it was not fit for human consumption and its use was leading to spread of diseases including cancer and hepatitis-C. He said there was not a single laboratory in the country with the capability to measure contamination of milk and water by chemical products.
The petitioner said milk produced by cattle injected with steroids to boost production was not fit for consumption. He prayed to the court to ban sale of adulterated milk, bottled water and poultry given hormone boosters.
Separately, the Supreme Court on Friday gave more time to the advocate general to submit a report about progress in investigation of child abduction cases in the province.
Earlier, Advocate General Shakilur Rehman told the bench that two members of a steering committee formed by the court were out of country. Justice Nisar observed that anxiety among the public over the safety of their children had come down since the court took notice of the matter. The bench allowed the AG to take more time to submit the report and adjourned hearing for a month.
http://tribune.com.pk/story/1182889/food-standards-sc-seeks-analysis-brands-packaged-milk/
NO RIGHT TO WORK IF CHILDREN CANNOT BE GIVEN PURE MILK: JUSTICE SAQIB
The News December 28, 2016
LAHORE: Chief Justice-designate Justice Saqib Nisar on Tuesday, while referring to the prevalent adulteration of chemicals, urea and cane juice in milk, remarked if they could not give pure milk to children, they do not have any right to work.
The Supreme Court bench remarked that it would take up the issue of distribution of contaminated milk and water to its logical end. The bench, headed by Chief Justice-designate Saqib Nisar, also formed a local commission to inspect different milk and water companies and asked the Punjab Food Authority head to ensure completion of reports on samples taken from these companies.
Going through the reports proving contaminated material in milk produced and distributed by some companies, the court snubbed officials of these companies saying that no one would be allowed to play with the lives of innocent citizens.
Appearing before the court, the petitioner, Barrister Zafarullah Khan, submitted that according to the laboratory report of Pakistan Council of Scientific Industrial Research, there is detergent powder and dangerous chemical particles in not only loose but also packed milk of some companies. He said authorities had failed to take action against the responsible for providing contaminated milk in the market.
PFA Director General Noorul Amin Mengal, appearing before the court, submitted that they were taking action against the responsible companies. He said they had imposed hefty fines on some companies and issued orders of closure of some milk outlets. He said every person who was responsible was being dealt with in accordance with the law. He said the PFA had sent 300 samples of water and 30 samples of packed and loose milk for laboratory test. At this, Justice Nisar remarked the court was well aware of the capacity of the laboratory test of PFA, which only had a scale and some other irrelevant items. He said the PFA laboratory had no modern machine to conduct the tests.
The court directed the PFA to present sample reports of milk and water on next date of hearing. The court also directed the local commission to submit a comprehensive report after inspecting these companies. The court adjourned the hearing.
https://www.thenews.com.pk/print/175023-No-right-to-work-if-children-cannot-be-given-pure-milk-Justice-Saqib
MAJOR RECALL OF LACTALIS BABY MILK OVER SALMONELLA FEARS
Business Recorder, 11 December 2017
French baby-milk maker Lactalis and health authorities have ordered a major international product recall because of fears of salmonella contamination, following 26 cases of children falling sick in France. Company spokesman Michel Nalet told AFP "nearly 7,000 tonnes" of production may have been contaminated, but the company is unable to say currently how much remains on the market, has been consumed or is in stock.
Lactalis is one of the world"s biggest producers of dairy products. It sells its baby milk in packets ranging from 350-950 grams which are marketed globally under a host of brand names, including Milumel, Picot and Celi. The recall will affect consumers in countries including China, Pakistan, Bangladesh, Britain and Sudan, underlining the reach of the company and the difficulty in trying to trace all the potentially at-risk powder.
Sunday"s announcement by the company and regulators in the French economy ministry significantly widens the scare which first emerged at the start of the month with reports of 20 sick children under the age of six.
A statement from the economy ministry said the measures put in place by Lactalis since December 2 were "not sufficient to manage the risk of contamination" and a broader recall was necessary.
Salmonella symptoms include severe diarrhoea, stomach cramps and vomiting. The illness – caused by intestinal bacteria from farm animals – is dangerous for the very young and elderly because of the risk of dehydration. The victims in France have since recovered and, asked if any cases had been reported abroad, Lactalis spokesman Nalet replied: "Not as far as I am aware."
The company believes the salmonella outbreak can be traced to an evaporation tower – used to dry out the milk – at a factory in the town of Craon in north-west France. All products made there since February 15 have been recalled, Nalet said, adding that the company was taking fresh precautionary measures of disinfecting all of its machinery at the factory.
The baby milk industry was shaken by a huge scare in China in 2008 when local manufacturers were found to be bulking their product with an industrial chemical. Six babies died and around 300,000 others were made ill. The scare benefited rival companies such as Lactalis and fellow French giant Danone. In 2013, Danone suffered what turned out to be a false alarm about botulism in its baby milk which did huge damage to its reputation and undermined group profits.
https://fp.brecorder.com/2017/12/20171211325963/
MARKETING OF CONTAMINATED BABY FORMULA FINALLY STOPPED
Dawn, December 18, 2017
Ikram Junaidi
ISLAMABAD: In what appears to be a halfhearted move, the Drug Regulatory Authority of Pakistan (Drap) has finally stopped the marketing of highly injurious baby formula milk imported from France and directed two local companies to also recall it from the market.
Sources in Drap said the government of France had declared the milk injurious to health for containing highly sensitive bacteria that can cause prolonged diarrhoea and abdomen diseases in infants.
The French government ordered its manufacturer to recall all consignments from across the globe and pay compensation to its users believed mostly to be in seven countries, including Pakistan.
As Drap did not identify the two local suppliers, it appears to be an attempt to protect the suppliers or marketing companies who should have been made to follow the French procedure to recall the product from the market and pay compensation to those who had consumed the contaminated powder milk.
Drap takes initiative about two weeks after French govt declared the product contaminated
Interestingly, the French government took the action on Dec 1 which was widely covered in the international media, including BBC and CNN, to recall the contaminated baby milk but the marketing of the product in Pakistan continued till Dec 13.
A statement issued by Drap on Sunday said the authority had issued "a public advisory on the use of Celia and Gromore (product of M/s Lactalis International, France) on the event of the global recall of few implicated batches by the principal manufacturer and importers as informed by the World Health Organisation (WHO)."
"These particular batches of Celia and Gromore being voluntarily recalled were recommended for use in lactose intolerant infants. Pursuant to the global recall, Drap has taken prompt action and activated the federal inspectorate and quality assurance team for the removal of implicated batches from the market."
It added: "Drap has collected the records of import transaction of these batches from France. The recall process has been initiated in collaboration with the provincial governments of Punjab, Sindh, Khyber Pakhtunkhwa, Balochistan, Gilgit-Baltistan, AJK and the capital administration. They were advised to monitor the recall process through their surveillance force."
An official of Drap requesting not to be quoted said in developed countries commissions were formed whenever such a situation arose. The commissions direct the companies to deposit the amount which was to be paid to the consumers as compensation.
"Unfortunately, in Pakistan regulatory authorities never take notice of contaminated medicines and edible items. In this case, an advisory has been issued because the international media is reporting that the power milk was supplied to Pakistan.
It seems the advisory has been issued to satisfy the French company because not only marketing companies' names were not disclosed but even they were not directed to launch a media campaign to apologise to the consumers along with pictures of the product," he said.
"Even consumers are not advised to file cases seeking compensations which means the marketing companies will get the amount of the product which is already sold in the market from the French company. The marketing companies will also demand the amount for the disposal of the product from the French manufacturer but will not pay any compensation to the consumers in Pakistan," he said.
Federal Drug Inspector Dr Obaid Ali on Dec 15 wrote to Drap and the Ministry of National Health Services suggesting that a public advisory should be issued on the matter.
Dr Obaid told Dawn that France was the only developed country with strong drug rules.
"Some children were reported with diarrhoea in France so the authorities started an investigation and reached the conclusion that the milk was contaminated with bacteria which was responsible for diarrhoea. Initially, the company claimed that only a few batches were contaminated but in the end it decided to recall all the batches manufactured between February 2017 and November 2017 from across the globe," Dr Obaid said.
"The government of France directed the company to hold a press conference and not only announce the global recall but also announce that compensation would be paid to the consumers. Internationally, the recall started on Dec 1 but in Pakistan no one bothered about it.
"When the matter was highlighted by the international media, the marketing companies on Dec 13 informed Drap that they would voluntarily recall the milk," he said.
MNA TABLES AMENDMENT TO REDUCE CONSUMPTION OF BABY FORMULA
Dawn, January 17th, 2018
Ikram Junaidi
ISLAMABAD: Pakistan Tehreek-i-Insaf (PTI) MNA Nafeesa Inayatullah Khan Khattak on Tuesday tabled an amendment to the Drug Regulatory Authority of Pakistan (Drap) Act 2010, which aims to discourage the practice of feeding infants formula.
While introducing the bill, Ms Khattak said there are a number of companies that import and sell baby formula. She claimed that baby formula is frequently recommended in Pakistan, and used even when it is not required.
"Legislation that [baby formula] should not be given to infants unless it becomes necessary is needed," she said.
The draft states that commercial baby formula is made in accordance with Codex Alimentarius Standards, which means the minimum standards of nutrient composition must be met. There are many brands of formula, but the proteins and fats found in them are inferior to human milk. Baby formula is also harder to digest and lacking in protective factors.
It said that formula manufacturing is a multi-billion dollar industry, and the volume of trade is rapidly increasing. "No one can deny that sale of one tin or packet of formula milk deprives a child to the most suitable food, the breast milk," the bill reads, adding that unethical tactics are used to increase the sale of baby formula.
The bill also says that Pakistan spends $40 million annually on importing baby formula, which is the highest amount spent by any country. It says that 160 varieties of baby formula are available on the market, and Drap should "strictly monitor and regulate the import and local manufacturing of formula milk".
"In addition to that the sale of formula milk must be restricted and conditioned with the provision on prescription of a registered medical practitioner so that the detrimental effects associated with the use of different formula milk brands may be minimised up to the maximum," it states.
The house has referred the amendment to a standing committee for further discussion.
According to a report released by the World Health Organisation and Unicef last year, no country in the world fully meets recommended breastfeeding standards, and only 23 out of 194 countries have exclusive breastfeeding rates above 60pc.
The report said that Pakistan stands at 18pc for 'early initiation of breastfeeding', and 37.7pc of mothers practice 'exclusive breastfeeding for six months'.
Statistics suggest that 44pc of Pakistani children are stunted. Compliance to early initiation of breastfeeding, exclusive breastfeeding and complimentary breastfeeding for two years could significantly reduce stunting in Pakistan.
The WHO has said that the promotion of breastfeeding could save the lives of 820,000 children under the age of five around the world by achieving increased rates of breastfed children.
There is also evidence to suggest that breastfeeding has cognitive and health benefits for infants and bothers. Children who are exclusively breastfed for the first six months are 14 times more likely to survive than children who are not, and breastfeeding also helps prevent diarrhoea and pneumonia, which are major causes of death in infants. Mothers who breastfeed have a reduced risk of ovarian and breast cancer, two leading causes of death among women.
The WHO has urged the implementation of the federal Protection of Breast-Feeding and Child Nutrition Ordinance 2002 and its 2009 rules.
https://www.dawn.com/news/1383459/mna-tables-amendment-to-reduce-consumption-of-baby-formula
https://www.dawn.com/news/1377281
FORMULA MILK PRODUCERS LEFT IN CONUNDRUM
The Express Tribune, April 23rd, 2018.
Contrary regulations of two government agencies about infant milk powder have created great confusion among industry stakeholders and general consumers, The Express Tribune learnt on Sunday.
According to Punjab Food Authority's (PFA) Marketing of Infant Milk Formula Regulation 2017, the authority has barred all manufacturers, importers and marketers to mention the words milk or doodh on the products and their publicity or promotional material.
In order to promote breastfeeding for the healthy development of the infant, the authority has also ordered infant formula milk companies to clearly print that their product that it is not a substitute for mother's milk. In addition, after enforcement of these regulations a couple of months ago, all companies are bound to mention Halal certification and the ingredients of the product on their pack.
The authority has also barred infant formula milk companies from approaching medical practitioners, in person, to promote and market their infant formula products. They cannot solicit, by any means, medical practitioners to prescribe infant formula products to newborns.
However, the provincial food watchdog has allowed infant formula businesses to disseminate their educational and informational material related to these products through post or email.
On the other hand, the Drug Regulatory Authority of Pakistan (DRAP) has mentioned all infant formula products in its law as 'baby milk'. "Contrary regulations of both government agencies have become a headache for infant formula product companies.
The food authority is asking us not to mention milk on product packaging, while the DRAP's Statutory Regulatory Order (SRO) 412 says all infant formula products fall under the category of baby milk," said a representative of an infant formula product.
According to the spokesman of the provincial food watchdog, after enforcement of the new regulation, medical stores will provide infant formula products only on the prescription of the doctor. The sellers also have affix fix label stating "Infant formula is not a substitute for mother's milk" as do the manufacturers.
He highlighted that the authority bears the right to launch FIR against violators under the power of the regulation. The sale of infant formula will be banned at grocery and general stores after two months.
The authority has recently conducted an operation against infant formula products and removed over 60,000 boxes from medical stores. The PFA spokesperson underlined that the authority had discarded and removed those products which have violated the infant formula regulation.
The action was taken in order to ensure the implementation on newly-introduced regulation on formula marketing.
The spokesman said that products were being sold in the market after being labeled French or Dutch, but they were actually imported from China. As per labeling regulations, the product must bear the label of the country of production and match the same standards.
The PFA spokesman further said children lack nutrition due to the poor quality of infant formula. He added companies were disseminating misleading information and glossy language on their products and in advertisement campaigns. He concluded this was a serving as encouragement for those mothers who preferred infant formula instead of breastfeeding.
https://tribune.com.pk/story/1692697/1-formula-milk-producers-left-conundrum/
Tax Free Pesticides
There was an advertisement placed by Pakistan Crop Protection Association (PAPA) in DAWN and Jang on May 24, 16. As an activist working with small and landless farmers in the country, the advertisement was shocking. The advertisement was clear in portraying the plight of farmers – stating that farmers were facing economic hardship because the rate of various crops had come down drastically; further that due to high pest attack on the cotton crop, farmers had to face a loss of millions of rupees – the panacea according to PAPA was to completely remove the 7% sales tax on pesticides and bring it to 0%.
The advertisement portrays the complete lack of accountability that the agro-chemical corporations –national or multination- have to the havoc they are creating on the lives and livelihood of farmers, especially small and landless farmers. And not only the farmers but the entire humanity. Biodiversity has been immensely impacted by the use of pesticides and fertilizers – destroying our soil fertility, polluting waters, food crops and of course the death of friendly insects and other inhabitants in the environment. And today, they are able to make an appeal to our representatives asking for further buffering from our government to increase their sales – in the name of farmers of course. It is to be hoped that a democratically elected government would not allow such a powerful, corporate sector to sway its policies.