M Haleem Asad
Speakers at a national conference named "Sustaining Lives and Livelihood: Fighting for Food Sovereignty and Climate Justice," held at the Auditorium Arts Council of Pakistan, Karachi asked farmers across the country to reject corporate agriculture which promotes intensive use of chemicals and pesticides, hybrid and genetic seeds that would damage the very foundations of the nation. The speakers strongly rejected the Amended Seed Act 2015 passed by the national assembly of Pakistan terming it a conspiracy against farmers. The conference was jointly organized by Pakistan Kissan Mazdoor Tehrek (PKMT) and Roots for Equity. The PKMT core group members from the provinces of Sindh, Khyber Pakhtunkhwa and Punjab besides journalists, labour union leaders and social activists attended the conference. Farmer Rights activists Dr Azra Talat Sayeed, Dr Nausheen Ali, environmental expert advocate Rafay Alam, PKMT National Coordinator Altaf Hussain, Secretary Wali Haidar, Amjad Nazeer, Raja Mujeeb former National Coordinator, PKMT, Junaid Awan and others spoke on the occasion. A documentary "Vicious Circles" by ITV on malnutrition amongst infants in Pakistan, misuse of medications and bottle feeding by multinational corporations was also presented.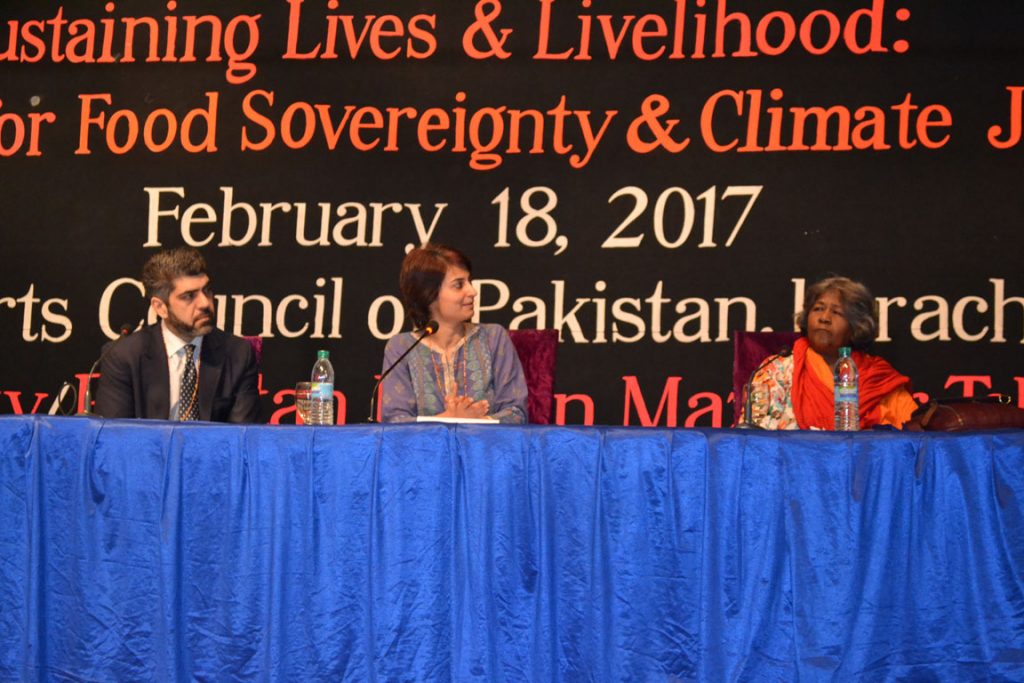 The speakers said that multinational companies had been exploiting small and landless farmers one way or the other, not only in Pakistan in all third world countries. The speakers said they were not against the use of modern technology and advanced science in the sector of agriculture but the monopoly of multinational companies in the seed sector, and commodification of natural resources, and the control over land by the corporate and the feudal landlords. Some of the speakers expressed a fear that land grabbing would increase the chaos in food production, intensifying malnutrition and hunger, leaving farmers destitute, without a livelihood not to mention further intensifying climate crisis and poverty.
They said the corporate agriculture would intensify speculative agricultural commodity resulting in food shortage and price hikes. Paying tributes to peasants, workers and women the experts maintained they were responsible for producing grains but they were paid pittance. They said farmers and peasants worked for 10 to 12 hours daily but they got only on the average Rs 3000 per month. Women agricultural workers earned even less than men. In a panel on people's resistance, speakers highlighted and condemned the role of NGOs and aid agencies, especially the USAID for depoliticizing communities. The speakers asked peasants, women and minorities to stand united for their rights and raise awareness against the corporate agriculture.
The conference ended in a mela celebrating PKMTs 10 years of struggle for Food Sovereignty. At the inaugural ceremony, PKMT leaders strongly advocated for independent mass-based political platforms for the small and landless farmers. The uniqueness of the mela was the display of indigenous and local seeds produced through sustainable methods by PKMT farmers, as well as nutritious traditional food served by the farmers from all corners of the country. Various district chapters of PKMT also played traditional musical instruments, performed folk dances, songs and theater.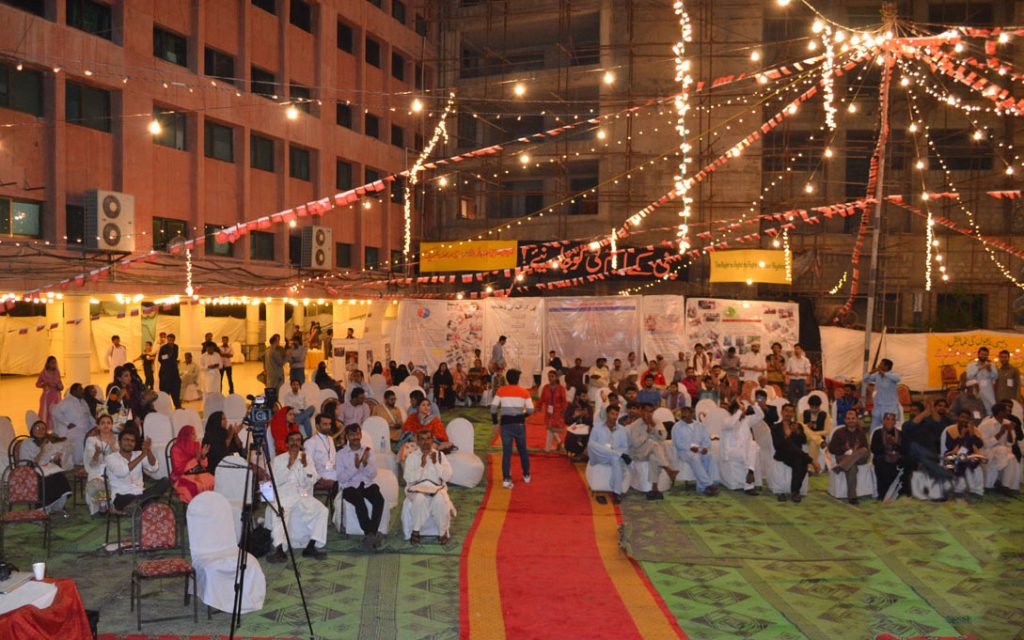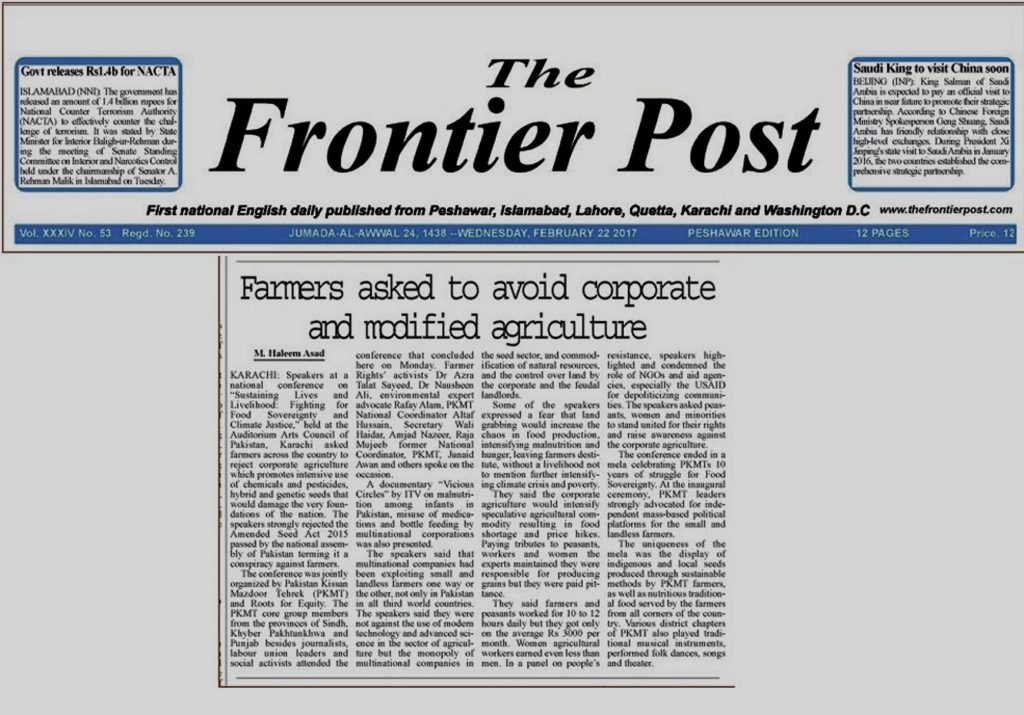 http://epaper.thefrontierpost.com/e-paper/2017-02-22/Business-28934/